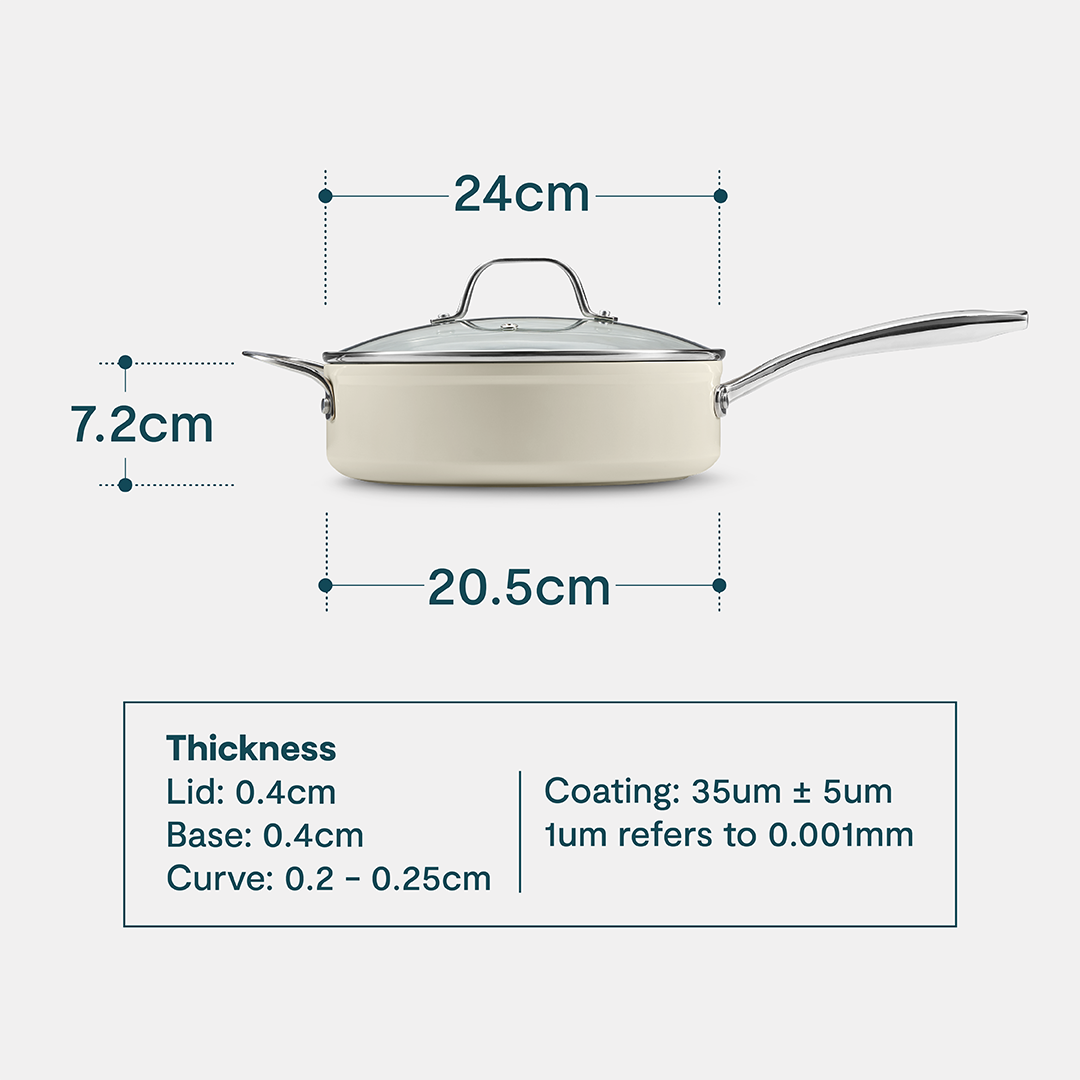 Cosmo Mini Pan
 Just nice for your favourite recipes.

Designed to make cooking and cleaning effortless — our pan features a new and improved solid stainless steel handle with Swiss-certified non-stick ceramic coating.

Making it ideal for stir-frying and sautéing.

✨Order until 13th Dec to get your gifts in time for Christmas!✨
Additional 20% OFF on any Cookware Sets
*No code required, automatic discount during checkout.
1 x Cosmo Mini Pan
1 x Glass Lid
✦ Non-Toxic (Free of PTFE [Teflon], synthetic coating [PFOA], and lead
✦ Great for stir-frying, simmering, boiling
✦ Oven-safe up to 230°C (up to 200°C with lid)
✦ Suitable for gas, electric, and induction stovetops
✦ Two-coat system that distributes heat evenly
✦ Ergonomic stainless steel handle for a firm, comfortable grip
Non-Stick Ceramic, Aluminum Core, & Stainless Steel Handles

✦ Capacity: 2.8L

Height
✦ Lid: 6.73cm
✦ Base: 7.2cm

Diameter:
✦ Top (excl. handle): 24cm
✦ Bottom (excl. handle): 20.5cm

Weight
✦ Pan: 1.086kg
✦ Glass Lid: 0.577kg

Length:
✦ Handle: 19cm

Thickness
✦ Lid: 0.4cm
✦ Base: 0.4cm
✦ Curve: 0.2 - 0.25cm
✦ Coating: 35um ± 5um
1um refers to 0.001mm
World class non-stick coating
Our certified Swiss-made & 100% chemical-free non-porous surface keeps your food free from harmful chemicals like Teflon (PTFE), PFOA, cadmium, and lead. Now you can cook with less oil and spend less time cleaning up!
"The best cookware set in Australia for homechefs."
"Deisgned for every modern-contemporary kitchen."
"MVP Cookware set that suit all kithcen aesthetics."
"One pan wonder, beautiful from stove to top"